For information about our upcoming events look at our Instagram page!
Events 2021/2022
We as Amnesty student group Wageningen organise different events and activities. Sometimes we contribute to events organized by Amnesty Netherlands, but most of the time we organize our own activities. These activities can differ greatly. Below you will find the events that we do regularly.
Firstly we organize a monthly Movie night. We work together with the organization Movies that Matter. They aim to open the eyes of people for human rights with the use of film. Their films are carefully chosen and are used to stimulate dialogue on a just world, influence public opinion and motivate commitment to human rights and a sustainable society. We as Amnesty International search for an expert, professor or activist that will be able to facilitate an open discussion after we have watched the movie together. This open discussion can be filled in by the speaker that is present. Sometimes it is somebody giving us more information, time to ask questions, ability for a discussion or giving us assignments to stimulate thinking about the topic. During these sessions we have experienced that the film in combination with the discussion time is a very interesting and stimulating way to shed light on topics that are not talked about enough. The sessions are very motivating and fun to attend!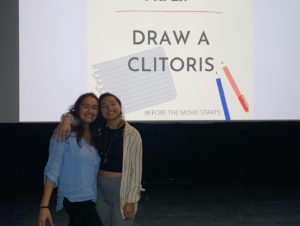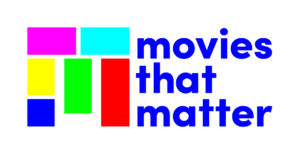 We organise charity nights. These can be filled up in our own creative way. In 2022 we are organizing a charity concert. We ask a band to come play an evening in Loburg. In recent years commissions also set up a game nights, pub quizzes and dinner nights. Make sure to keep an eye out on our Instagram and Facebook, because we will promote all these special nights on there!
Next to that we organize a yearly Write for Rights. Every year all over the world this campaign is set up, to fight for people suffering from injustice. We write as much letters as possible to governments and authorities, and ask to free these people from torture, harassment, or unjust imprisonment. We set up a writing station on campus and promote on social media and with posters. Everyone walking past can write a very important letter in just 2 minutes. We make sure they are sent to the headquarter of Amnesty NL and they will distribute the letters to the right government or authority. This campaign has helped over 100 people out of their suffering from injustice.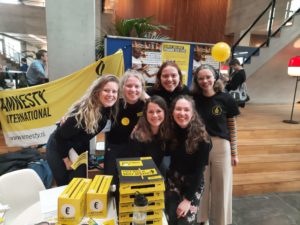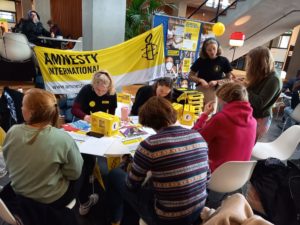 Then we contribute to the yearly collection week. This is every year in March. We have a week to collect in a certain part of Wageningen. The money we collect is used by Amnesty International NL to continue their projects and campaigns. Through their research and campaigning, they can continue helping to  fight abuses of human rights worldwide. They can bring torturers to justice,  change oppressive laws and  free people jailed just for voicing their opinion. Carefully counted, we found out that we contributed with 880,20 euro this year (2022)!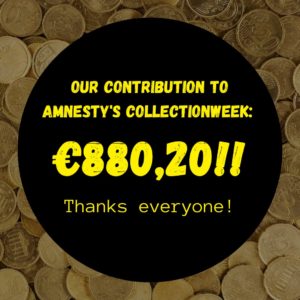 We take a stand at every annual introduction days. In this way we can talk to people about Amnesty and what we as Wageningen student group contribute. We attend the summer and winter introduction days and it is always very fun to talk to new people about human rights subjects. During these AIDs we try to make students enthusiast to come to our activities and events if they'd like that.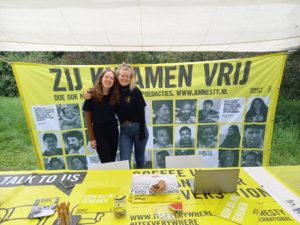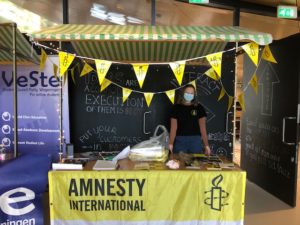 Events 2017/2018
End of the year BBQ
On June 26th we had fun at the end of the year BBQ. We reflected on the past year, ate some delicious food and enjoyed conversations and some music. It was a great way to finish the year!

Movie Night 'I am not your negro'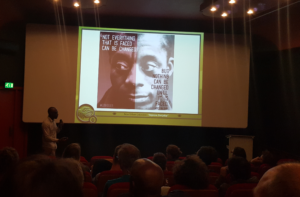 We rounded up this year with a special event: the premiere of the recent stirring movie 'I am not your negro' in cooperation with Heerenstraat Theater (www.heerenstraattheater.nl). The movie dives into the American civil rights movement, surrounding the lives and violent deaths of three major leaders – Medgar Evers, Malcolm X and Martin Luther King Jr. – told through the eyes of poet James Baldwin. Yet, it manages to connect these historic events with present day events of police violence, institutional racism and violent deaths of People of Colour in the US – a thrilling representation of race in our times.
The evening was introduced by our special guest, Mitchell Esajas (nucnet.nl/dt_team/mitchell-esajas). He is strongly engaged in education, empowerment and advocacy programs for youths, students and young professionals from diverse cultural backgrounds in Amsterdam.
Here (https://apura.org/project/264/the_black_archives_open_voor_publiek_-_help_mee!/) you can find more information and how to support his current project 'Black Archives' which focuses on telling history of black voices. Thank you very much everybody joining and making this inspiring evening possible!
Nacht van de Vluchteling
After weeks of making a team, having training sessions and gathering funds for 'stichting vluchteling' it was finally time to put it all into practice and walk 40 km from Nijmegen to Arnhem in the middle of the night. With our 19 walking students from Wageningen and the great support from the student teams of Amnesty and the Red Cross we managed to collect €4425,90.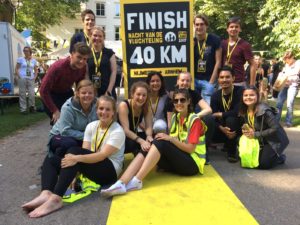 With a large stock of coffee, sports tape and Chrissy our main food supplier it was a prosperous night where everyone reached the finish line and got to collect their medal. The last ten kilometers through the mountain range of Arnhem made it a true challenge to us all but the great company, road songs, and finish line within sight got us through it. And after that a lot of sleep was also quite helpful. Hopefully we will have a group just as enthusiastic and dedicated next year!
Game night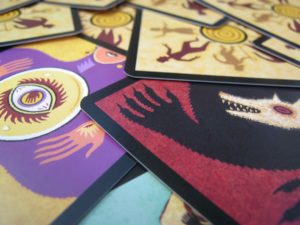 On May 23, we had a fun evening especially for all members of our student group. We started into the cosy evening with tasty fresh wraps and then played 'werewolves' and – ironically – 'Cards against Humanity' and had a great time. Thanks everybody for joining!
Human Rights Week
In the week of May 15-May 19, together with  the Red Cross Studentdesk and Unicef Student Team Wageningen we organised a week full of activities to get more awareness for our organisations, the theme of the week was Human Rights. It all started on Monday with an infomarket where the three organisations stood togethe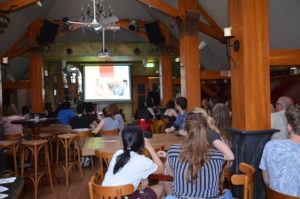 r at Forum. On Tuesday, Wednesday and Thursdaty we switched with our infostand in Forum, Orion and Leeuwenborch.
On Wednesday 17th of May we organised a Pubquiz in H41. There were some fun prices you could win! And we hope you've learned something about our organisations and about human rights!
On Thur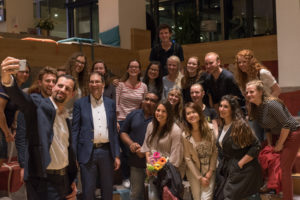 sday the  18th of May we organised an event called 'A Journey to Freedom' Explaining Refugee Rights in a TEDx inspired Event. During this night at Impulse we had three different speakers who all explained something about refugee rights. The first person that spoke that night was Gert Jan van Dommelen, he is the chairman of Amnesty International in Huizen, and  explained something about refugees and what Amnesty does for them. The second speaker was Nawras Ali, he told us something about his life, how he left Syria a few years ago and how his life is now he is here in the Netherlands. The last speaker of the evening was Hashem Jan, he left Afgahnistan 16 years ago and told us something about how much of an impact war has on you life.
For more pictures of these events check the site or our facebook!
Brainstorm Session with Welkom in Wageningen
On 30th of March 2017, we organised a brainstorm session with Welkom in Wageningen. The event was attended by two representatives from the organisation and two visitors from the asylum centre Wageningen. At the start of the event, the two visitors indicated the desire to know more about why people in the community still hold negative perception about them. They also indicated a strong passion for furthering their education in Wageningen if given the opportunity. The major reason for the negative perception about the refugees adopted from the meeting was the disconnection between the refugees and the host communities. Welkom Wageningen has taken decisive actions to familiarise the people in the host communities with the refugees so as to eradicate the negative perceptions. Amnesty Student Wageningen is also passionate about supporting the organisation in any way possible. Kirsten van Muijden and Maira F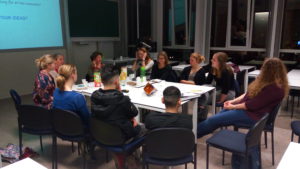 röndt from Amnesty Student Wageningen are working on more trending ways to promote the organisation through social media.
Welkom in Wageningen organises activities such as Chat stall ('Kletskraam') and photo project to answer any question about the refugees in Wageningen. Other activities include; language lessons, biking lessons, dinner at home, music 'op schoot', creative together, buddies, women's activities and sports. They are in a desperate need of volunteers for these activities. Please contact us if you want to be a volunteer.
For more information, please contact us!
Many thanks to everyone who participated!
Movie night: 'Hotel Rwanda'
In 1994 a horrible and cruel conflict took place in Rwanda when in barely three months, almost a million people were killed. The movie 'Hotel Rwanda' tells the story of hotel manager Paul Rusesabagina, who gave home to over a thousand refugees during this genocide. We see how the tensions between the Hutu's and the Tutsi's escalate into a civil war and how time after time, Paul tries to save his family and the rest of this enormous group from the Hutu soldiers.
This movie is about a very black chapter in the history of Rwanda, but they have been rebuilding and improving ever since, we are told by Salma, the speaker of the night who is Rwandan herself. The country is now even one of the safest countries in Africa, but it's important to keep educating people about the genocide and look back to it, so people will remember it and something like this will never happen again.
Movie Night: 'Forbidden Voices' 
In honour of the International Women's Day, the 'In-Depth committee' organized a special Movie Night, screening the special movie 'Forbidden Voices'. We witnessed the strategies and struggles of Yoani Sánchez, Zeng Jinyan and Farnaz Seifi , 3 famous female bloggers from Cuba, China and Iran in their fight for human rights and freedom of speech. With rich insights from local activists, bloggers and gender studies specialist Chiz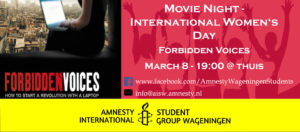 o Sato, we discussed the (limits to) freedom to blog in the Netherlands, ways to support human rights activists ) and more.
Check out the facebook event for links what you can do.
Thank you everybody enabling this and joining the evening!
Charity week
It is tradition in the Netherlands that every charity organization is allowed once a year to go around the streets in the whole Netherlands to ask for donations. In the week from the 6th till the 11th of March Amnesty International had its official Charity Week and thus many members and volunteers went to the streets and knocked on many doors. Of course, also our student group participated! This year we walked with 15 volunteers in different areas around Wageningen throughout the whole week. In the end and after a lot of counting we collected an amount of 1345,94 €!
Amnesty Pub Quiz
At the start of this year we organized a special members evening: A pub quiz about Amnesty and human rights! Within four teams our members competed against each other to win glasses full of candy and chocolate. Some of the questions that needed to be answered were for instance in which year the Universal Declaration of Human Rights was adopted by the United Nations or in how many European countries capital punishment still is applied. The team that knew most of the answers and thus won the Amnesty Pub Quiz was 'Pineapple on Pizza' with Kirsten, Leah and Thomas. Congratulations!
New Years Drinks and Letter Writing
In celebration of the new year and to meet everyone again after the holidays the action committee organized new years drinks. With bubbles and letter writing we fully opened the new Amnesty year. At the end of the night we had a whole pile of letters to help human rights activist Huang Qi in China and filmmaker Keywan Karimi in Iran who were both prisoners of conscience.
Movie Night: 'Forget Me Not'
In our first documentary in 2017, we learned what it means for rejected child refugees, as we got to know "De Verrekijker", a Dutch primary school for children of rejected asylum seekers. These children live with the constant fear of being taken in the middle of the night to be deported back to their countries. It was very touching to see the impact these harsh practices have on both the children and their parents, as well as the teachers having to cope with students disappearing and traumata day by day.
Info Evening: Ethnic Profiling
On 8th of December we hosted this year's first big In Depth Amnesty info evening event – with a hot topic: Ethnic Profiling.
Jair Schalkwijk from Controle Alt Delete and Nawal Mustafa from Amnesty International Nederland gave a joint keynote on racial profiling in the Netherlands. In their lecture they addressed the causes of racial profiling and unravel the various arguments that support racial profiling.
Letter Writing Marathon
On 1st of December we hosted the annual Letter Writing Marathon of Amnesty International in Wageningen.
At various locations on Wageningen Campus and in the city center we wrote letters and postcards together with everyone who wanted to join. We had nice activities such as a lottery where participants could guess how many letters are going to be written and we had nice bands that provided thrilling music to our marathon. During the day we wrote 476 letters in total and even the WUR Wolf wrote some letters with us!
Thanks to everyone who participated!
Movie Night: #ChicagoGirl
On 10th november we hosted our second movie night of this academic year. We scr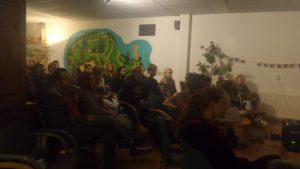 eened the movie Chicago Girl.
#chicagoGirl– The Social Network Takes on a Dictator
"The film received the Students' Choice Award at the Movies that Matter Festival 2014. From a Chicago suburb 19-year-old student Ala'a Basatneh coordinates a huge online network of revolutionaries in Syria, posting demonstrations on Facebook, mapping escape routes via Google Maps and putting footage of demonstrators online. Using the Internet she supports activists who wage war against the regime with their cameras and keep filming even when bombs explode all around them. The unfolding insurrection raises the question as to what the most effective means to drive away a dictator is: social media or an AK-47?"
Halloween Dinner
On Halloween 2016 we hosted a Halloween Dinner at ISOW!
We had some delicious and scary green pasta, pumpkin soup and a tasty pumpkin crumble as dessert. Also, we wrote some letters and postcards after the dinner. Thanks to everyone who joined and participated!
First Movie Night: '5 Broken Cameras'
The In-Depth Committee already started right into the year with a Movie Night. They screened the movie '5 Broken Cameras', a thrilling movie about the Israeli-Palestinian settlement conflict in 'Thuis' and attracted so many interested spectato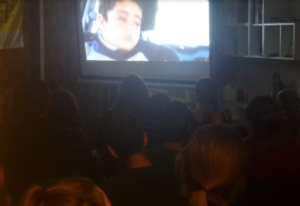 rs, that the room would not fit all people. Alexandra Rijke, a Wageningen PhD candidate analysing the everyday interactions of Palestinians and Israeli settlers with the Wall and other material barriers in the West Bank, provided special insights into the local context – thank you very much, again!
Enjoyed the movie and want to see more? The In-Depth Committee will organize one Movie Night each period, every second week of the period – so save the date!