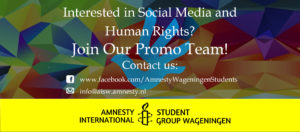 Do you want to promote Human Rights, also behind the screen? Are you creative? Do you want to work with social media? Do you want to gain promotion skills, learn how to design a catchy poster and make our group visible here in Wageningen and beyond? Then this might be the right choice for you. The promo committee, our newest committee, promotes events, spreads awareness via facebook, instagram and more, designs poster, and much more. We are responsible for maintaining all of our social media accounts and being visible especially in the online environments. Next to that we design and create our posters and flyers. Just be creative!
Activities:  promote our activities on social media, design posters and flyers, write newsletters, take pictures, update the website, post on our facebook page, twitter and instagram

Time input: one weekly lunch meeting, some time for promoting etc, depending on the division within group

What you can do: learn how to design a poster or flyer, create and promote events on social media, write a newsletter, be creative, hold lecture pitches before events, in short: make Amnesty visible!
Interested in becoming a Promo member? Contact us: info@aisw.amnesty.nl